2011 was truly a phenomenal year in Burning Man's history. For the first time in 25 years of holding the event, the number of people wanting to come tBurning Man exceeded the population limit stipulated in our Bureau of Land Management (BLM) permit. Victims of our own success, we were forced stop ticket sales in July 2011. Many Burners, long accustomed to being able to purchase their tickets at their leisure, were caught by surprise and found themselves without tickets. A mild panic set in amongst the community, but it is believed that most people who wanted tickets ultimately got them through the usual summertime dynamics of the secondary markets in the end.
With a record peak population of 53,963 on playa in 2011, wait times to enter the city when the Gate opened on Sunday were the longest on record, forcing many to explore the boundaries of their patience, and forcing our Gate staff to seriously reconsider how ingress happens in Black Rock City — because the population isn't getting any smaller.
Participants making the trek out to Black Rock City were rewarded with as hard-packed a playa surface as we've seen since 1996, and consistently glorious weather throughout the event week with nary a single whiteout the entire time (a warning to first-timers: this is NOT normal). This made for unsurpassed ease in getting around Black Rock City and ample opportunities to enjoy all there was to see, do, be and experience. People gathered as collective sub-communities in over 920 placed theme camps, offering a seemingly infinite variety of interactive participatory experiences and support services for the city infrastructure. The city's layout was augmented to accommodate the increase in population, expanding the open playa by 400 feet (from Man to Esplanade), and adding 16 interstitial radial streets at the :15 and :45s on the outer roads to expedite travel there.
The additional space created in the open playa made for safer of operation approximately 600 Mutant Vehicles licensed by the Department of Mutant Vehicles in 2011. These mobile sculptures are one of the signature elements that add to the mind-blowingly surrealist landscape of Black Rock City by day and especially by night. They are at once roving works and whimsical forms of public transportation, carrying people deep into the playa to explore the art and experiences to be found there.
The 2011 art theme "Rites of Passage" encouraged participants to explore those seminal moments in every human's life that mark time, place and transitions of experience. This proved to be a fruitful theme, inspiring many to consider what has made an impact on their lives, and in many cases, expressing those feelings through art. In homage to this theme, the Man stood in mid-stride between two peaks, taking the courageous step across the chasm as we all must when transitioning from one phase of our lives into the next.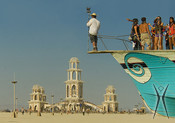 International Arts Megacrew (an internationally-diverse crew) constructed the Temple of Transition, the most massive temple built to date, consisting of six towers, the tallest of which topped out at 120 feet. The sheer scale of this impressive structure — it was visible from the nearby town of Gerlach — created an optical illusion of intimacy in the vastness of the playa, despite the open playa being larger in 2011. Visitors to the Temple were at once awed, inspired and humbled by the sheer ambitiousness of this incredible project.
The Burning Man founders decided to increase the budget for art grants by more than 10% from 2010, and with this increased budget, Burning Man was able to fund 45 honorarium art installations, up from a normal 32-35. This made possible such incredible art pieces at Peter Hudson's "Charon", Flaming Lotus Girls' "Tympani Lambada", "The Pier" by Matt Schultz, and Warm Baby's "The Wet Dream" to name just a few. Well over 300 artworks graced the playa in 2011, including Laura Kimpton's "LOVE" and Jim Bowers' record-breaking one-mile clock "Burning Time".
The imposing figure of the Trojan Horse dominated the western skyline of the city throughout the week, standing 75 feet tall at 9:00 and Esplanade. This full-scale replica of the original Trojan Horse was rolled by 500 volunteers in a formal procession through the Gates of Troy then ignited with a cluster of flaming arrows shot by a Trojan warrior, culminating in a massive conflagration. This piece was an excellent example of the power of crowdsourced fundraising, which has become a popular way for teams to fund their projects.
As Burning Man's Regional Network continues to grow (175 contacts serving communities in 19 countries on five continents around the world to date), it has also been gathering momentum. This was reflected in the ambitious Circle of Regional Effigies (CORE) project, which consisted of 23 sculptures encircling the Man, each crafted by a different Regional group, representing the expression of Burning Man in their local communities. All of the CORE projects were ignited simultaneously on Thursday night of the event, and the conscientious work of the Fire Art Safety Team (FAST), Black Rock Rangers and Emergency Services Department (ESD) ensured it went off without a hitch — and without accidentally lighting the Man on fire.
Throughout the year, the Burning Man organization works diligently to wrap-up from the previous year's event, prepare for the next one, while simultaneously cultivating Burning Man culture around the world. In order to accommodate the physical growth of our organization, we moved into new offices in San Francisco's Central Market corridor in May, affording us opportunities to work with the city of San Francisco to help revitalize this long-blighted neighborhood by helping to plant the seeds of a burgeoning arts district. To accommodate Burning Man's philosophical growth, Black Rock City LLC launched the independent non-profit organization Burning Man Project in August of 2011, which will work in several program areas to spread the culture and ethos of Burning Man into the world, year-round.
In 2011, Burning Man's Regional Network welcomed 36 new Regional Contacts from around the world, and the latest confirm that indeed "We Are Everywhere". Representatives from international Burner communities in Shanghai, Singapore, Johannesburg (Gauteng), Lithuania, Barcelona, Scandinavia, The Netherlands, Czech Republic, Nova Scotia, and The Philippines came aboard as well as new Regional Contact team members in Ireland, and the Canadian provinces of Alberta, Nova Scotia and Ottawa. 145 of these contacts descended upon San Francisco in March of 2011 to participate in the Regional Leadership Summit, an opportunity for them to share insights, ideas, and best practices, while making connections that will help them to support their local communities in their expression of Burning Man culture.
As we continue to grow and evolve, and as the global interest in Burning Man continues to increase, the organization is particularly concerned about critical issues that face the event, including population growth, ingress, egress, cultural cohesion, environmental effects, and impacts on neighboring communities. In many cases, perfect solutions are elusive, and each will come with tradeoffs. But as we do every year, we will be gathering feedback, collecting the best ideas, and looking closely at these issues and how to best address them for the betterment of our global community.
As the Man burned in 2011, a box sat nearby, containing the ashes of Rod Garrett, Burning Man's long-time city planner and designer, who passed away in August of 2011. Rod was instrumental in the creation of many key elements of Black Rock City as we know it, including the design for the city layout, Center Camp Cafe, and all the Man bases from 2001-2011. Rod's keen intellect, visionary genius and insightful counsel will be sorely missed, and his vision will resonate in the reflection of our city for years to come.
The Burning Man organization wishes to express gratitude and appreciation to the staff, volunteers, partners and participants who make Burning Man possible as a result of their passionate dedication to this incredible project.