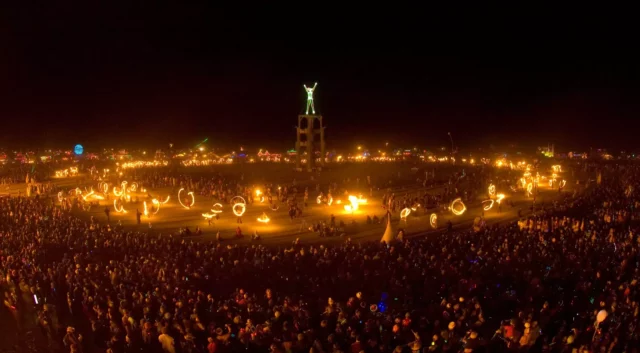 Each year the number of requests from performers to participate in the Fire Conclave grows. To be accepted into the Fire Conclave, each fire performer must be part of a fire group who performs a choreographed fire dance.  The Fire Conclave is recreated anew every year, so every group is required to audition —  even a fire group in good standing that has been accepted in the Fire Conclave in the past. 
Fire Conclave Council
The Fire Conclave is managed by the Fire Conclave Council (FC Council) comprised of Crimson Rose, Tabasco, Wrangler, Scorch, and Natalie who enjoy the assistance of a fantastic support staff.
The Mission of the FC Council is to organize and manage the yearly gathering of the Fire Conclave groups in Black Rock City, ensuring that hundreds of fire performers and safety personnel are not only compelling to watch during the night of the Burn, but effectively managed and safe within the perimeter that surrounds the Man called the Great Circle. More information on the FC Council.
Criteria for Joining the Fire Conclave
Acceptance into the Fire Conclave and dancing at the foot of the Man is an honor, and this responsibility should be taken very seriously. To be selected for the Fire Conclave, a leader must assemble a trustworthy group of fire performers and safety personnel dedicated to responsible safety practices, and choreograph an outstandingly creative performance.
Fire Performance Group Composition
In each fire group there are positions that are mandatory and others that are optional.
Mandatory Roles Members
Shin — Leader of the group

Fire Performers – Dancers and performers

Fire Safety Personnel — Fire Watch

RadioheadHelmsmen — Radio \ Communications Person & Acting Stage Manager
Optional Members
Shin Assist(s) — Assistant to the Shin of the group

Drummers/Musicians

Documentarian (Photographer/Videographers)

Additional camera Operators / Editors to produce audition video

Choreographer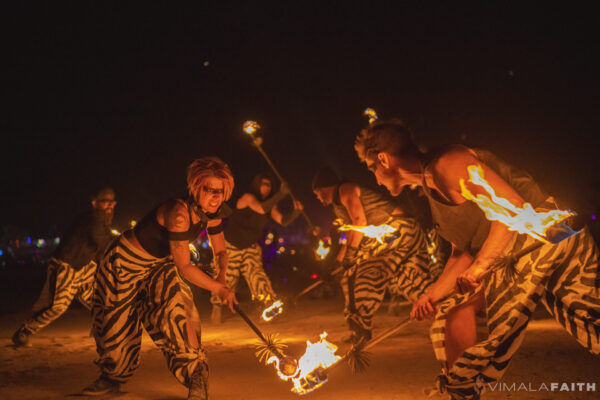 There are spaces for two sizes of  groups, Large and Small within the Great Circle. We accept between 24 and 32 groups each year depending on the audition videos and how well each group communicates and completes the required steps. We know that people don't always have the resources to create a large group, or the ability to manage so many and so we have created a space for smaller groups. We leave the final details till we know who has made it into this year's Conclave. 
Large Groups
Maximum – 50 people per fire group
Minimum – 20 people per fire group – (15 fire performers, 1 Radiohead, 4 fire watch).
Small Groups
Maximum – 25 people per fire group
Minimum – 10 people per fire group (7 fire performers, 1 Radiohead, 2 fire watch).
Shin ~ Leader of a Fire Group
For every group, there is one person who is the leader, primary contact and person who is willing to vouch and take responsibility for the actions of all members of their group. This person is called a SHIN (in Hebrew means Mother Fire). They manage and organize the fire group, set rehearsals, coordinate the production of their audition video and communicate regularly with the FC Council. The Shin runs their group the way it works for them within their region of the country.  Each group creates its own individual style, energy, commitment level, and code of ethics.  The Shin must understand and recognize that acceptance into the Fire Conclave and dancing at the foot of the Man is an honor to receive and a gift to be given.
If you'd like to be a Shin and would like to know more about the audition process visit Fireconclave.org/resources and read the guide called, "So You Wanna Be a Shin"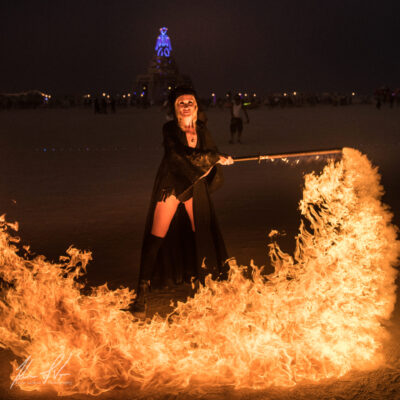 Fire Performers
There must be a minimum of 15 fire performers in a large group, or 7 in a small group. A fire performer is anyone who dances or moves with a fire tool to create performative fire art. Fire Performers are part of a group that works under the direction of their Shin and are required to honor sobriety while playing with fire. Fire Performers can not be a Radiohead or Documentarian.

Fire Watch / Safety Personnel
This position goes by many names, but simply put they are responsible for making sure the fire stays where it should be. If performers accidentally lights themselves on fire, Fire Safeties are at the ready to put it out quickly with a wet towel or other fire retardant materials. Fire Watch/Safety Personnel are clear, capable, competent and are required to honor sobriety while they are performing their duties. Fire Watch / Safety Personnel may sometimes also be a performer, but they can not be a Helmsman, Drummer, or Documentarian. Each group will have a ratio of about one Fire Watch / Safety Personnel to every five fire performers. Underage performers must have a safety person solely dedicated them while they are performing, parent preferred. If a group has more or less the FC Council will question the number of people you present with your final group numbers.
Radiohead
Radio communications in the Great Circle before, during and after the fire performance is crucial. The Radiohead is an extension of the person calling the Run of Show (essentially an assistant stage manager). They  listen for cues  to start and stop and transmit these cues to their fire performance group. Radioheadmust have a critical eye to observe everything that happens with, around and outside of the performers' area and are required to honor sobriety while performing their duties at the Burn. Each fire group will have one Radiohead. The Radioheadperforms this singular task and may not perform with fire, play music, document or act as Fire Watch. Radiohead duty requires that the radio and equipment be checked out prior to the Burn and returned as designated after the Man falls.
Optional – But Nice to Have – Support Staff
Shin Assist

~ While the Shin is required to fulfill all of their expected duties, the Shin Assist can support them in the completion of those duties. Shins should absolutely introduce their Assist to the Fire Conclave Council.

Musicians / Drummers or Music

~ While no amplified music is allowed in the Great Circle, you are welcome to provide music that will help you be creative and will complement the dance movements through your choreographic development, video shoot and performance, such as drums or a brass section. If your group is in need of drummers, our

Ambient Drummers

can accompany  your group. These drummers are arranged around the Great Circle where there are no group-affiliated drummers.

Documentarian (Photographers or Videographers)

~ There are particular guidelines and registration deadlines that are related to these positions, not just with the Fire Conclave but also with Burning Man's Communications dept., Media Mecca. More information can be found

here

. There will be a limit of

ONE

Documentarian associated with your fire performance group.
Deadline to Communicate Intention to Participate
The deadline for communicating your intention to participate with the current year's Fire Conclave is MARCH 1. If you are a leader of a fire group and willing to follow the criteria and can demonstrate aptitude and competence please subscribe to the Fire Conclave Announce list.
Subscribe to the Fire Conclave Announce List
The Fire Conclave Announce email list isn't a discussion list, it is the one place to hear about all the activities related to the Fire Conclave from the Fire Conclave Council. All fire performers — whether with a group or not — are encouraged to subscribe to the Fire Conclave announce list. Email fireconclave@burningman.org, and tell us something about yourself, what attracted you to fire, how long have you been playing with fire, what kind of tool(s) you utilize, where you live, how many years you've attended Burning Man, if you play with a fire group, and anything else you want to express about yourself.
Current Fire Conclave Membership
The Fire Conclave currently has over 1,600 members who come from all walks of life. Whether from a small town or big city, the passion, love and respect of the flame is alive in their heart.
There are Fire Conclave members from Alaska, Arizona, California, Colorado, Connecticut, Florida, Hawaii, Idaho, Illinois, Maryland, Massachusetts, Minnesota, Missouri, Nevada, New Hampshire, New Mexico, North Carolina, New York, Ohio, Oregon, Pennsylvania, Texas, Utah, Virginia, Washington DC, Washington State, and Wisconsin.
International Fire Conclave Membership
We are thrilled that the Fire Conclave has members from around the globe, including Argentina, Australia, Austria, Canada, Cambodia, Czech Republic, France, Germany, Indonesia, India, Ireland, Japan, Mexico, Singapore, Serbia, South Africa, South Korea, Ukraine, and the United Kingdom.