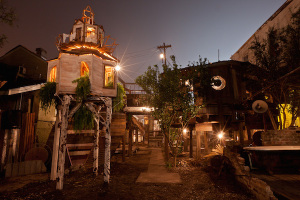 Mission Statement
This program funds highly interactive, community-driven works of art that prioritize community involvement in their development, execution and display. We fund art that is accessible to the public, civic in scope and prompts the viewer to act. We like art that can be experienced in more ways than visually – art that is touched, heard or experienced as well as viewed. We prioritize funding art that involves the audience in its conception, creation and presentation.  The program's impact is driven by a willingness to take risks and be the first to give a grant to a project or to work with artists and projects that other funders might avoid as well as a focus on community-driven processes that have effects far beyond the artwork itself.
How to Apply
If you think this sounds like your work, we encourage you to apply! The online form to submit Letters of Inquiry (LOIs) for the 2018 grant cycle will open Fall 2017 and will be accessible through profiles.burningman.org.  If you are interested in applying, please read more about the application process on the criteria page.
Is Art Destined for Black Rock City Eligible for These Grants?

This program does not fund art headed to the Burning Man event in Black Rock City. If your art is intended for the playa, please check out the Black Rock City Honoraria program.
While the interactive, community-focused art at Burning Man was the original inspiration for this Global Art Grants program, many of our grantees have had no connection with the extended Burning Man network or community before applying. Some, however, do connect to the Burning Man Regional Network, using the existing collaborations and established organizations to usher new artwork into their communities.
History of the Global Art Grant Program
In 2014, when the Black Rock Arts Foundation (BRAF) became Burning Man Program's Art Department (FAQ), the BRAF Grants to Artists Program became the Burning Man Global Art Grants program.  Since 2002, these programs have awarded over $753,910 to over 164 projects in 34 states and 24 countries.