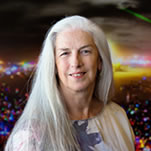 Crimson Rose
Founding Board Member and Board Secretary, Burning Man Project
As a co-founder of Burning Man, the Black Rock Arts Foundation and Burning Man Project, Crimson Rose's life passion and work have focused on the arts and artistic expression.
She began participating in the Burning Man event in 1991, and developed the organization's Art Department, including the infrastructure, financial and other support services that make possible the large-scale participatory art works that Burning Man is renowned for.
With Crimson's guidance, Burning Man serves as an inspirational limitless canvas, the works of which now find public placement in cities around the world and serve as catalytic sparks for community collaboration.
Harley K. Dubois
Founding Board Member and Chief Culture Officer, Burning Man Project
A founding member of Black Rock City LLC, Harley K. Dubois has over 25 years of project management, art and city planning experience. As the City Manager of Black Rock City for over 10 years, Harley oversaw both the Playa Safety Council and Community Services departments, ensuring the citizens of BRC are happy and safe, including ingress, life on playa, and egress. She originated theme camp placement, the Greeters, Playa Info, and Burning Man Information Radio, and has kindled the development of all other Community Service teams. Harley also created and maintains a comprehensive training and self-development program for the Burning Man staff, fostering volunteerism and cross-departmental communication.
Harley was a founding member of the Black Rock Arts Foundation (BRAF), where she created and chaired the Grants to Artists committee and acted as the foundation's liaison with the Burning Man Project. She worked closely with the Executive Director and other staff members in conducting day-to-day operations. As Chief Transition Officer Harley was responsible for the merging of Black Rock City LLC, BRAF, and Burners Without Borders into the Burning Man Project. She helped to complete the merging of art related programs into a unified Burning Man Arts program. She is passionate about seeing volunteerism fully integrated into all BMP operations, and is continuing to integrate and develop BMP programs and infrastructure to support Burning Man's role as a network node for our global expansion.
Harley has an extensive background in the visual and performing arts and serves as a director on the board of Illuminate, which rallies large groups of people together to create impossible works of public art. In 2016, Harley was named one of four Founding Board Members of the Nation of Makers independent nonprofit, whose mission is to provide more Americans access to the spaces, communities, and tools to make more and consume less. She has been a fitness director and a San Francisco fire fighter.
Larry Harvey
Founding Board Member and Chief Philosophical Officer, Burning Man Project
In 1986, Larry Harvey started Burning Man with a spontaneous act of creativity — with help from his friends, Larry built and burned a wooden figure on San Francisco's Baker Beach on the summer solstice. Larry steered the growth of Burning Man from its beginning. In 1997 he became a co-founder of Black Rock City, LLC, the event's managing organization, and served as its Executive Director. He later went on to co-found and serve as the Chairman of the Board of the Black Rock Arts Foundation. In 2013, he co-founded Burning Man Project, a 501(c)3 non-profit organization with a year-round staff of more than 70 employees and an annual operating budget of approximately $30 million.
Larry scripted and produced the Burning Man event's annual art theme, supervised the design of the iconic Man sculpture and its infrastructure, and was Co-Chair of its Art Department. For five years he served as Burning Man Project's Board President and Chief Philosophical Officer.
As a recognized visionary and steward of a unique creative culture, Larry spoke frequently around the world at renowned institutes of higher learning, museums, and other cultural crossroads. He spoke at Harvard University, Columbia University, Walker Art Center, The Commonwealth Club of California,The Economist World In Conference, the Oxford Student Union, London's Southbank Centre, Austin's South by Southwest conference, and was interviewed on Charlie Rose in 2014.
Larry passed away on April 28, 2018, nearly three decades into the manifestation of this creative impulse, and the annual event that it has become, into a global force for creative culture on six continents, and in more than 50 countries, and growing. His legacy was honored by a worldwide, simultaneous celebration on the 2018 summer solstice, and his words and ideas live on as foundational texts of Burning Man culture.
As the organization's first CEO, serving in that role since 2013, Marian oversees Burning Man's year-round staff of 100+ employees and its annual operating budget ($45 M in a normal year with the Burning Man event, but halved in 2020). Marian first attended Burning Man in 1995, and in 1997 was a co-founder of the management organization that eventually became Black Rock City, LLC, which produces the Burning Man event. Throughout her leadership in the Burning Man organization, she has been the Director of Business and Communications, and also oversaw the Black Rock City Department of Public Works. She has steered the development of the Burning Man Regional Network, which is now on six continents, with more than 300 representatives in 40 countries. Marian is a founding board member of the Burning Man Project, the Black Rock Arts Foundation, and Black Rock Solar. She is currently leading the organization's efforts to facilitate and extend the Burning Man ethos globally.
Marian holds a BA in Creative Writing from Goucher College in Baltimore, Maryland and an MFA in photography from the Academy of Art University in San Francisco. She has worked in sales and public relations, and was a project manager for a software development firm when she first arrived as a participant at Burning Man in 1995.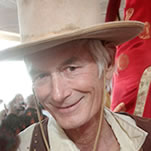 Michael Mikel is both an historian and a futurist with an interest in technology and social communities.  Today, he serves Burning Man as a Founding Board Member of the Burning Man Project, Director of Advanced Social Systems, Ambassador and as a member of the Philosophical Center. He was a co-founder of Burning Man which he joined in 1988, and a co-founder of Black Rock City, LLC in 1999. Michael was instrumental in bringing the event to the Black Rock Desert, and is responsible for a number of Burning Man 'firsts.' In 1991 his concept car, the "5:04 PM" was the first art car at Burning Man. In 1992 he edited the first on-site newspaper, and also founded the Black Rock Rangers. In 1995, he developed the logo design which has become the symbol of the Burning Man community. He introduced containerized storage and transport in 1997, and instituted the first perimeter radar system for Black Rock City in 2000.  In 2001 he visited regional groups across America as an ambassador for Burning Man. In 2008 he managed the development of Burning Man's presence in the virtual world of Second Life.
Prior to Burning Man, Michael was involved with numerous San Francisco social, countercultural and technological institutions. Michael began his career in the 1970s as an electromechanical systems engineer for Fairchild Semiconductor, working on precursors of the personal computer in nascent Silicon Valley. In the early 80s, he advised Caltrans on intelligent freeway systems in Los Angeles, developed the first robotic assembly line for Apple Computer's Fremont assembly plant in 1986, and in 1987, was a co-founder of San Francisco's first tech startup, Jasmine Technology. As a content contributor and social catalyst, his work influenced the founders of many media and technology startups, including Wired, Boing-Boing, Laughing Squid, and the Internet Archive. With a keen interest in culture jamming, he was a pivotal member of the Cacophony Society, a crew member of Survival Research Labs machine performance group and a former member of the underground Billboard Liberation Front. 
 
As an historian, Michael has contributed his papers, printed materials and personal artifacts from the Cacophony Society and Burning Man to numerous archives including The San Francisco Main Library, the Bancroft Library in Berkeley, the Special Collections archive at the University of Nevada- Reno, and extensively to the Nevada Museum of Art's Center for Art & Environment.
"In order for this planet to survive we need to reach thousands…hundreds of thousands. We are giving our lives to it. It's that important."
 
Michael lives with his wife, Dusty, in San Francisco and Reno, Nevada. He is best known by his playa persona "Danger Ranger".
Will Roger discovered Burning Man in 1994, through his life partner Crimson Rose. Together and with several others, they co-founded Black Rock City, LLC, which has overseen the Burning Man event for nearly twenty years. Will founded and managed the Black Rock City Department of Public Works — a team of several hundred people responsible for the pre-event and post-event construction logistics and production. He is a founding board member of Burning Man Project, and is the Vice-President of Friends of the Black Rock/High Rock. Will is heavily involved in conservation efforts of the Black Rock Desert, which is the United State's largest National Conservation Area, and which is home to the Burning Man event. He served as Chairman of the Sierra Front – North Western Great Basin – Resource Advisory Council (RAC), and is currently a member of the RAC NCA Subgroup.
Will is also an accomplished photographer, and worked nearly 20 years at the Rochester Institute of Technology as a photo chemist, administrator, associate professor, and Assistant Director.