com⋅post [kɒmpɒst] n. – a combination of various decaying organic substances that are being decomposed largely through aerobic decomposition into a rich black soil.
con⋅trap⋅tion [kuhn-trap-shuhn] n. – a mechanical contrivance; gadget; device.
The Composting Contraption by Paul Cesewski
San Francisco, California
May 1, 2010 – July 30, 2011
Reclaimed materials
25'H x 30'W x 20'D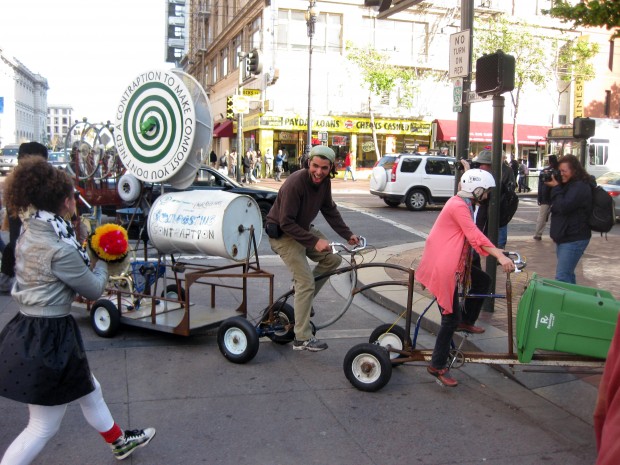 About the Project
The Composting Contraption was a human-powered, interactive, kinetic artwork designed to inspire, motivate and educate San Francisco residents to increase the practice of composting at home, and to take better advantage of the City's green bin organics collection programs serving the residential, commercial, and institutional sectors. The project aimed to change the composting behavior of San Francisco residents, and to divert recoverable resources from being disposed of as solid waste, in keeping with the City's zero waste goals.
Materials used for the mobile sculpture were primarily made of reclaimed, recycled or reused materials. This artwork educated the public about the process of composting in a dynamic and whimsical way, while referencing the variety of ways that the public can (and, now by San Francisco law, must,) participate in composting, from backyard to curbside pickup.
About the Sites
The Contraption traveled to local festivals, street fairs, farmers markets and schools to increase awareness of composting practices (and recycling, to some extent.) The Contraption was deployed at several events, including Maker Faire, Power to the Peaceful, The Mission Community Market, and Sunday Streets.
About the Artists
BRAF is proud to have collaborated with San Francisco artist Paul Cesewski in this project. Cesewski is the creator of a myriad of contraptions, including the bike-powered rides of Cyclecide's Bicycle Rodeo and the Star Wheel, a participant powered rolling Ferris wheel. Cesewski also contributed to the creation of the floating sculpture rafts of Miss Rockaway Armada. Read more about Paul Cesewski at paulsrides.com.
Peter Hudson – zoetrope – www.hudzo.com
Russell Howze – stencil art – www.stencilnation.org
Ariel Eisen – paintings
Veronica Ramirez – graphics – www.buddhabootz.com
Jonathan Youtt – project manager -www.sustainablelivingroadshow.org
About ScrapEden
ScrapEden first bloomed at the Burning Man event in 2006 when we invited citizens of Black Rock City to contribute sculptures of garden-inspired artworks made from reclaimed and recycled materials. The project yielded delightful creations, and inspired us to continue to collaborate with artists around the theme of reuse and recycling.
The ScrapEden Program evolved into a collaborative effort between the San Francisco Department of the Environment and BRAF. Together, BRAF and the DOE produce public works of art that illustrates the messages and practices of recycling and reuse. All of these collaborative ScrapEden projects serve their communities by promoting dialog and thought about the importance of recycling, reuse, and composting and about the impact of the human practices of accumulating, treating and creating waste.