The Heart Machine debuted at Burning Man in 2010, presenting a sophisticated fusion of concept, interactivity, aesthetics and amusement to the citizens of the city. The piece is comprised of a large sculpture of a robotic, but recognizably human-shaped, heart surrounded by four 16′ pillars, or "arteries," that display light effects and emit 25' columns of fire when activated.
The Heart Machine by Christine Irving and crew
Nuit Blanche, Toronto, Canada
October 1, 2011
Resin infused fiberglass, burlap, metal, L.E.D. lighting and flame effects
16'H x 25'W x 80'D
The Heart Machine was inspired by the 2010 Burning Man "Metropolis" theme, and by Fritz Lang's 1926 movie Metropolis. The film's Heart Machine is a city's power generator. The citizens' urban existence depends on the Heart Machine, but the machine requires constant human interaction to function. Similarly, The Heart Machine requires a symbiotic interaction with humans to demonstrate its fullest expression.
How we perceive technology guides our interactivity with the machine. Do we watch passively for the machine to react to our presence or do we take active control? Do we reach out and explore without fear or do we wait to take the lead from others? The Heart Machine serves is a metaphor for the interaction between citizen and city, human individual and technology. Citizens, being the arteries and blood, have a choice to exist silently or to be active participants in a city's future. The work questions people's symbiotic relationship with technology.
The artwork is an interactive environment, offering several possible flame effects. Groups of people must work together, holding hands and making contact with the sculpture in various configurations, to set off the flame effects. The more participants involved, the more complex and grandiose the effects.
About the Site
The Black Rock Arts Foundation was pleased to offer this project support in making its first public debut in Toronto, Canada, at the Scotiabank Nuit Blanche Festival. For one sleepless night, on October 1, 2011, Toronto became a playground of exhilarating contemporary art experiences. The Heart Machine premiered at the festival as Canada's first public large-scale sculpture with flame effects. Nuit Blanche is an annual, free, public event that draws over 1,000,000 participants.
Learn more at www.toronto.ca/special_events/snb and www.scotiabanknuitblanche.ca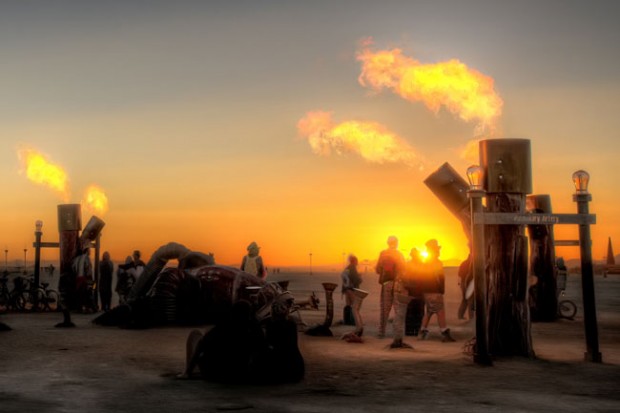 About the Artist
Christine Irving is a management consultant, artist and project manager in the technology industry. She was the first Canadian female artist to be commissioned by Burning Man for large interactive art. Irving is the concept artist, financer, and driver behind The Heart Machine, but the work would not exist without her team members. All her projects are deliberately collaborative and designed to break down the invisible wall that separates people from art. Christine and her team won the Nuit Blanche 2010 People's Choice Award for Independent projects with Flux & Fire; a collaborative adaption of Interpretive Arsons' 2PiR for Canada.