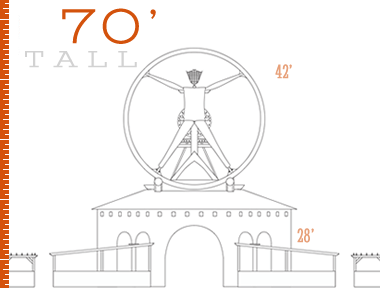 2016 Burning Man and Da Vinci's Workshop
Vitruvian Man stood at 70 feet tall and was surrounded by the Piazza, an Italian Renaissance inspired space of "cunningly-wrought fountains and other public art designed to encourage repose, relaxation, and the meeting of friends" inhabited by Guild Workshops that featured Amalgamated Debris Assemblage from Salida, CO,Elephant Expressions from New York, NY, Leonardo Da Vinci's Flying Machines from Loveland, CO, Dragon Smelter from Oakland, CA, LOOP from Tokyo, Japan and The Renaissance of Musical Instruments from Vilnius, Lithuania among others. In total, 13 of the 32 Guild Workshops were created by Regional groups, including four international Regional projects coming from: Finland, Germany, Japan and Lithuania.
Art in the Piazza included Roger Carr's "Bells of Vitruviano", Vulfie Munson's "Improba Putti", Steven Lee Burright's "Determinazione", Matthew Dockrey's "Hubris" and Matthew Davis' "DISC-GO-SPHERE". First time Burner, Dennis George Sparling, a self-described Scythian Hunter from New Haven, Vermont brought his 9 feet tall sculpture of Leonardo to grace the Piazza.
More
Lord Snort by Bryan Tedrick, photo Philip Safarik
2016 saw 316 total art installations on playa, including 64 walk-in pieces, 58 Honoraria and 29 Guild Workshops. Burning Man distributed $1.2 million in funding for Art this year and saw not only international artwork from 12 countries: Canada, Spain, UK, Germany, Russia, India, New Zealand, Israel, Switzerland, The Netherlands, Brazil, Australia, but also broad representation from twenty US states. Many notable projects graced Black Rock City including, "The Black Rock Lighthouse Service" by Jonny and Max Poynton, "Lord Snort" by Bryan Tedrick, "La Victrola" by La Victrola Society, "@EARTH #HOME" by Laura Kimpton and Jeff Schomberg, "Mechan 9" by Tyler Fuqua of tyler fuQua creations,"The Space Whale" at the Keyhole by The Pier Group with Matthew Schultz, Android Jones and Andy Tibbetts, Jack Champion's "Murder of Crows" and "Jedi Dog Temple" by 4 1/2 yr old Sagan Bocskor.
The Fly "Geyser" photo George Post
In 2016 Burning Man purchased the Fly Ranch property, 3,800 acres of land located twenty-one miles north of Gerlach in Washoe County, Nevada. As a year-round site, Fly Ranch has the potential to expand Burning Man Project's activities and existing programs, as well as amplify Burning Man's cultural impact into the wider world beyond Black Rock City. Buying the property is the first step on a long journey. As stewards of this unique piece of land, our foremost responsibility is to ensure it will be maintained for generations to come.
More
The
2016 Census
revealed that Black Rock City was attended by a lot of Canadians and first timers. The median age a Burning Man has been 33 or 34 years old for the past four years and 43.1% of 2016 attendees had a Bachelor's degree — more than double the US average - among other valuable statistics about the citizens of Black Rock City.
The 747 Project, Big Imagination. Photo aip2000
LA based "Big imagination" also created a buzz with their Indiegogo project that promised to bring a 747 to the playa. At at estimated cost of $240,000 and after outfitting the 747 body, SR 447 from Reno to the Burning Man site was closed as the fuselage made it's way to Black Rock Desert and Burners let their opinions be known on social media. Was it art? Everyone had an opinion.
Once on playa and after several days of unloading "Emotional Baggage" and providing a space for nightly entertainment, unnamed pranksters "hijacked" the 747 and released rubber snakes and hung a banner stating "We will only negotiate with Larry!" During the standoff they may or may not have taken control of the DJ system and created a general ruckus, thereby assuring that the spirit of what made Burning Man pranksterism still holds sway over any project, regardless of what project may cost to bring to Black Rock City.
2016's Burning Man Theme, "Da Vinci's Workshop", offered an opportunity for participants to explore the similarities between the Italian Renaissance centered in Florence, and Burning Man in an "attempt to recreate this potent social alchemy by combining Burning Man art, maker culture and creative philanthropy to make Black Rock City the epicenter of a new renaissance". Themes of patronage, alternative forms of funding and similarities between existing Burning Man phenomenon such as Theme Camps and how they correlate with the Renaissance were explored in the "Art, Money, and the Renaissance" blog series.
Burning Man provided $1.2 million in funding and 316 total art installations graced the playa including 64 walk-in pieces, 58 Honoraria and 29 Guild Workshops. Additionally there were fire projects in 2016 including 18 open fire projects, 36 flame effects projects and 12 pyro projects.
Burning Man Year Round saw the transition from LLC to Non Profit blossom into a world-wide phenomenon. The 10th annual Global Leadership Conference and the Third European Leadership Summit drew representatives of the next wave of leaders within the Burning Man Community, in total 286 Volunteer Regional Contacts in 123 regions in 35 countries.
"Transitioning to a nonprofit has been like adding rocket fuel to the flame, launching us into a whole new era of Burning Man. Today, Black Rock City is but one node in a global network of participants, collaborations, and organizations. Civic actions, nonprofit partnerships, events, public art, community support efforts, and education initiatives are just some of the current manifestations of this unfolding worldwide culture", Marian Goodell CEO/Chief Engagement Officer
Additionally, Burning Man continued to develop and add to our Philosophical Center to engage our community and the world in all things Burning Man.
The Black Rock Lighthouse Service, photo Keith Aeschliman
European Leadership Summit, Barcelona
The Temple by David Best and the Temple Crew, photo Jamen Percy
In 2016 the Temple was formally named "The Temple" and was built by David Best and the Temple Crew. Inspired by the Temples of Nepal, a 100 foot square courtyard containing eight altars surrounded the Temple structure that stood 80 feet tall. Inside, a centrally located altar and chandelier served as a focal point and Participants adorned the entire structure, inside and out with remembrances of loved ones. On Sunday night the Burn of possibly David Best's last Temple was mostly solemn as he and the Temple Crew's gift to Black Rock City and our community provided a catharsis in fire, love and remembrance.
BRC Airport 2016. Photo Zipporah Lomax
The ARTery and "We Are Everywhere" Regionals combined into one structure to share resources and to provide synergy and the 3 o'clock and 9 o'clock ice stations were moved deeper into the city, from the C plazas to the G plazas to balance out the accessibility to participants.
Black Rock City Airport came under new management and got some upgrades, including the launch of the Burner Express Air Program, providing a safer and easier way for participants to fly into Black Rock City. The runway was also upgraded to accommodate more traffic and larger aircraft safely. 2,500 people entered Black Rock City by air this year.
In its fourth year, the Burner Bus program really hit its stride, busing over 9,000 people to and from Black Rock City. This year, the program offered pre-purchased water to be collected on playa, and the Burner Express plus program: buying a Burner Express ticket with a Burning Man ticket attached.