Placement Sectors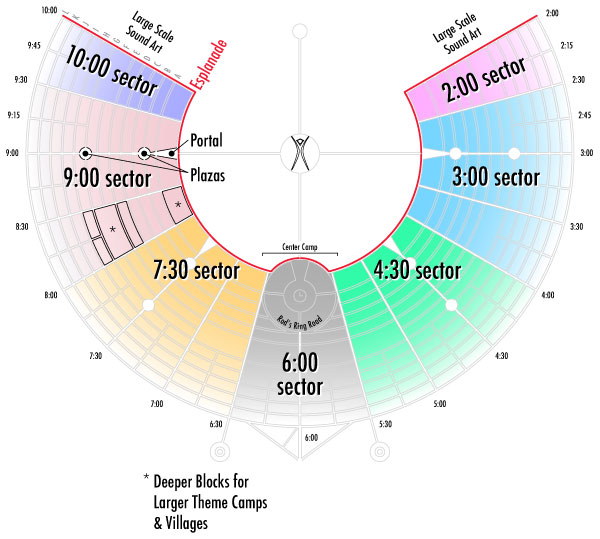 In Black Rock City, avenues are the straight, radial streets that radiate out from the Man, named to follow the clock face. Streets are curved and concentric to the Man, and are named in alphabetical order, starting with "A" Street (behind Esplanade) and progressing outward away from the Man.
There are seven placement Sectors in Black Rock City corresponding to the radial avenue names. Each Sector has specific areas reserved for Theme Camps and Villages, detailed below. Each sector is named in the graphic above. Note that multiple avenues lie within each sector (i.e.: there is no 4:00 sector, and 4:00 avenue is the border between 3:00 and 4:30 sectors).
One virtue of a temporary city is the ability for radical changes from year to year. Keeping things dynamic and fresh also means that camps should not expect to retain the same or similar location. We cannot guarantee exact placement where it is requested; however, the location information you share on your Camp Placement Questionnaire helps us to understand your preferences.
To register for placement, complete a Camp Placement Questionnaire by our deadline via Burner Profiles. Please also read our criteria for camp placement. Please note while we have listed interactivity minimums to be considered for placement in particular locations, interactivity and each camp's placement is considered in relation to the camp's particular size. 
Placement is optional, you can camp in open camping or walk-in camping without registering or receiving placement.
BRC Street Types
There are many different street types in Black Rock City, from the Esplanade that faces the open playa, to our grand portals that welcome people into the city, to the main avenues and plazas that become city focal points. Each fosters a different sense of place and community. Read more about these street types and expectations for camps who are placed on them.