Placement Sectors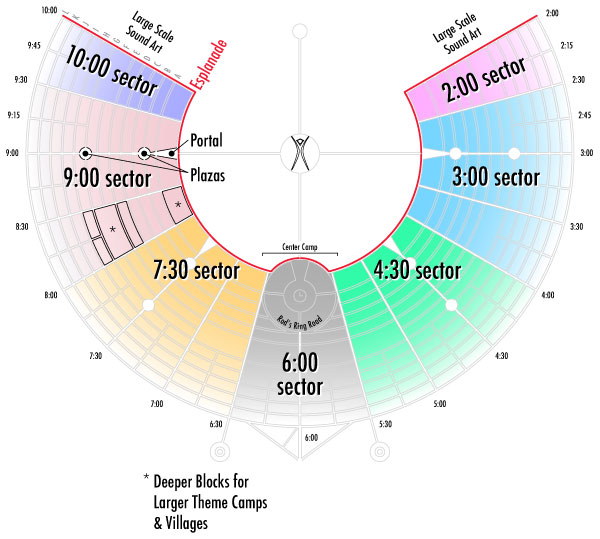 In Black Rock City, avenues are the straight, radial streets that radiate out from the Man, named to follow the clock face. Streets are curved and concentric to the Man, and are named in alphabetical order, starting with "A" Street (behind Esplanade) and progressing outward away from the Man.
There are seven placement Sectors in Black Rock City corresponding to the radial avenue names. Each Sector has specific areas reserved for Theme Camps and Villages, detailed below. Each sector is named in the graphic above. Note that multiple avenues lie within each sector (i.e.: there is no 4:00 sector, and 4:00 avenue is the border between 3:00 and 4:30 sectors).
One virtue of a temporary city is the ability for radical changes from year to year. Keeping things dynamic and fresh also means that camps should not expect to retain the same or similar location. We cannot guarantee exact placement where it is requested; however, the location information you share on your Camp Placement Questionnaire helps us to understand your preferences.
To register for placement, complete a Camp Placement Questionnaire by our deadline via Burner Profiles. Please also read our criteria for camp placement. Please note while we have listed interactivity minimums to be considered for placement in particular locations, interactivity and each camp's placement is considered in relation to the camp's particular size. 
Placement is optional, you can camp in open camping or walk-in camping without registering or receiving placement.
BRC Street Types
For 2021, Placement is reconsidering interactivity levels for each street type with the understanding of limitations that camps may be facing this year.
There are many different street types in Black Rock City, from the Esplanade that faces the open playa, to our grand portals that welcome people into the city, to the main avenues and plazas that become city focal points. Each fosters a different sense of place and community. Read the following descriptions for these street types to get a better sense of what they offer. Note that these are not prescriptive descriptions of these, but represent what camp interactivity within their camp looks like day to day in Black Rock City. Please also be sure to read the Camp Placement Criteria to understand what we're looking for in all placed camps.
Street Types in Every Sector
Special Street Types
6:00 Center Camp Plaza and Rod's Road

Center Camp is the civic hub of Black Rock City and the crossroads for many, with Center Camp Cafe at the heart. Critical BRC departments are here including Playa Info/Lost and Found, Arctica, the Artery, the DMV, Ranger Headquarters, and BMIR. In Center Camp Plaza, camps that complement Center Camp as a civic hub work best like those offering community services, educational workshops, and models for sustainability.

A typical camp in Center Camp offers 8 or more hours of interactivity

every day or night

Camp frontage is visually stimulating, open/welcoming, and well-lit at night

Located within the city limits, may not produce loud sound that exceeds 90dB at 20ft

Camp public interactivity

suggested

 through the Man Burn

2:00 and 10:00 Avenues: Large-Scale Sound

Because these Avenues face the open playa, they are reserved for camps with large sound systems. While this area is often known for late-night parties that last through the day, other types of camps on 2:00 and 10:00 that help add variety to the experience.

A typical Large-Scale Sound Camp offers interactivity within camp 12 hours each day/night
Camps exceeding the sound limitation of 90dB at 20 feet must be placed on the 2:00 or 10:00 Avenues and speakers are required to face directly out to the open playa.
Camp frontage is very visually stimulating with easily identifiable landmarks, open/welcoming, and well-lit at night
Potential to have camp interactivity, sound setup, or art installations up to a maximum size of your camp frontage width x 100ft depth across the 2:00 or 10:00 Avenue in front of your camp (no parking or camping allowed in that space)
Camp public interactivity suggested through the Man Burn

Double-Wide Blocks between E–F Streets

These blocks are prioritized for extremely large camps and villages to share their gifts with the city. Larger camps and villages often have smaller subcamps within them and come together to share resources and a shared vision for their communities.

Like Street Camps, interactivity for camps/villages in double-wide blocks vary and are proportional to their size. Because they are larger, there is generally some interactivity occurring for approximately 8 hours every day or night in some part of the entire camp/village.

Camp frontage is visually stimulating, open/welcoming, and encouraged to be well-lit at night. We encourage the village to have a cohesive identity and clearly identifiable entrances for participants and guests to enter.
Located within the city limits, may not produce loud sound that exceeds 90dB at 20ft
Camp public interactivity suggested through the Man Burn
The maximum village size should not exceed 400 people. If you are considering a camp/village of more than 401 people, please contact placement@burningman.org for support.