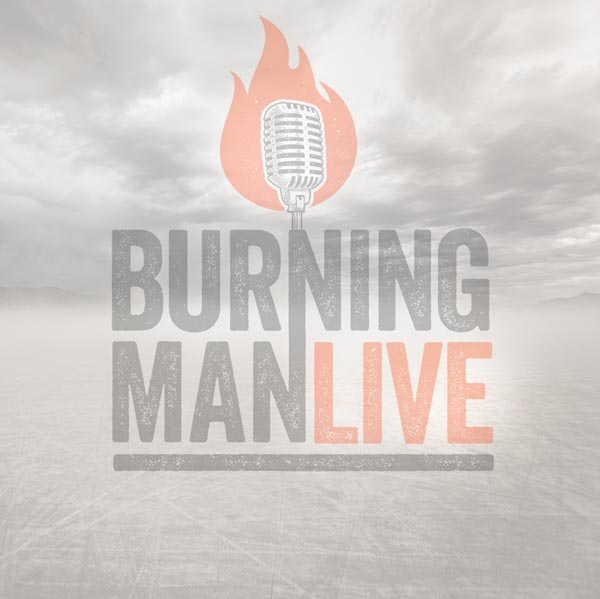 Burning Man Live |
Episode 32
| 05|27|2021
Art Happens No Matter What
Guests:
Jen Lewin, Julia Nelson-Gal, Antwane Lee, Leeroy New, Gloria Beck, Manager, Art Support Services
Life happens. Art happens with life. The arts are a big impact area of Burning Man culture.
Burning Man Project funds artists each year through our Global Arts Grants and BRC Honoraria. The pandemic put a pause on 2020 grants. Now with no Black Rock City for a second year, we feared the arts grants would also be a no.
However, thanks to generous philanthropy, Burning Man Project is funding a million dollars to 59 art installations from eight countries and 14 US States, for placement wherever is clever. Bringing the art to the people!
Stuart and Andie talk with "Weapons Grade" aka Gloria Beck, senior project manager of Burning Man's Art Support Services.
They also speak with 4 of the recipients of this year's Global Arts Grants:
They tell tales of getting things done when things are tough to do. They talk out how the pandemic pivot affects the artistic process. They share about creating art from kitchens and bedrooms, to TikTok and virtual reality – and the magic born from people exploring interactive art in public spaces.
"I'm just fascinated by how diverse the world is and how diverse people are in their abilities. This is highlighting human ability." Jules Nelson-Gal
Our guests
Jen Lewin is an internationally recognized new media and interactive sculptor based in Brooklyn, New York. Over her 27-year career, Lewin has honed her architectural background and a highly technical medium to fabricate large-scale, interactive, public sculptures that encourage community interaction and play.
Jules Nelson-Gal is a project-based artist, working with photography, collage and printmaking in the San Francisco Bay Area where she works out of PROJECT 275, an Artist's Collective in Redwood City, California. She repurposes found materials– including snapshots left to her by family members, 19th-century photographs excavated from people's attics, as well as microfilm, books and LIFE Magazines discarded by libraries.
Antwane Lee is the lead artist and designer of The Solar Shrine Project. He is a licensed architect practicing in Chicago and has over 22 years of experience in the profession. Antwane is very involved in the community, sits on various art and civic committees and boards, and curates events on Afrofuturism, science-fiction, and mythology. He regularly attends regional Burner events and has worked on related art projects.
Leeroy New is a Manila-based multidisciplinary artist whose practice overlaps and intersects with different creative industries: fashion, filmmaking, theater, public installations, product design, and performance. This inclination to harness different modes of creative production has become the spine of his practice, driven by concepts of world building, myth-making and social change.
Transcript
STUART:  This time around we're going to talk about art. One of the biggest impact areas of Burning Man culture, any way you slice it, is in the realm of the arts. I think it's a pretty interesting story because having been outsiders in the art world for so long, we have generated our own alternate art reality, our own ecosystem that includes all of the things or variations thereof that you might find in the mainstream art world. There are collectors who collect Burning Man art. There are learning opportunities, whether you think about that as maker spaces like a generator, or if you think about it like learning spaces like crucible in Oakland, or DIY art collectives like Flaming Lotus Girls, where you can learn the skills to create the art while you are creating the art. It is a complete system and also includes some fundings sources.
Burning Man Project has over the years, spent millions of dollars on grants to artists. Every year for the last few years, about a million dollars has gone to help promote art in Black Rock City, on and off the playa as well through our Global Art Grants, until this year. Actually until last year because we were not able to build Black Rock City in 2020, and we will not once again be able to build it in 2021.
But thanks to some very generous philanthropy, Burning Man Project is going to be able to fund the projects that were green lit for last year's events to the tune of about a million dollars. This is huge. We're talking 59 art installations from eight countries, 14 US States. And in every one of those places, Burning Man is going to be happening in 2021, bringing the art to the people, and supporting our artists who genuinely need and deserve the money to keep creating between now and Black Rock City, 2022.
So to find out more about all of this, Andie and I spoke with someone in Burning Man's art department who goes by the playa name "Weapons Grade." I know that sounds a little scary. She's also Gloria. Hi, Gloria Beck.
GLORIA: Hi. How are you doing, Stuart?
STUART: I'm doing good. And I have to ask. Playa names. You gotta tell me. What's the story behind "Weapons Grade"?
GLORIA: Oh my gosh. Well, a member of my crew when I first got brought on as the Assistant Manager for Art Support Services, he said, <Southern USA drawl> "Well, I always did appreciate some high grade estrogen…"
ANDIE: I know exactly who that is!
STUART: I think we've had him on the show. From Texas, by any chance?
GLORIA: Yeah, so it started out as "High Grade" and the minute I stepped on playa, somebody morphed it to "Weapons Grade" and I felt like: Sold. Done.
STUART: Okay. Well, thank you for indulging me.
GLORIA: I am a Senior Project Manager with the Burning Man's Art Department. Among other things, I manage Art Support Services, which is the team that works with the artists on playa. And I oversee the installation of over 400 artworks annually in Black Rock City and beyond.
STUART: Wow. So in a normal year – God I miss normal years – but in a normal year, you'd be getting ready to go out to the playa. What does that look like on the ground? What is your team? How do they operate?
GLORIA: We have about seven squads and we operate out of The Artery, which is the Art Department's home base on playa, but we go out into the field and work directly with the artists and interface with them in sort of like a "just in time" manner. Mostly interfacing with the heavy equipment team, but also some of the other services that artists need and use on playa.
ANDIE: So when you make big art, it requires big tools to do the scale of stuff that we do out there: forklifts, cranes, variable-reach cherry pickers, all that crazy, heavy stuff…
STUART: Which is kind of an art form in and of itself, isn't it? Driving heavy equipment.
I want to talk about the Honorarium. Every year – every normal year – Burning Man funds art to the tune of a million dollars that's artists all over the world. It's seed money for their projects.
Last year we started that process and then we had to hit the brakes on it. Obviously the event didn't happen because of COVID. What happened with the artists who were in that process as it was unfolding, and then hit that hard stop?
GLORIA: Yeah, that was a rough patch, wasn't it? It kind of continues to be a rough patch, but luckily it looks like we're moving in the right direction. We couldn't move forward with our Honorarium Grants for the 2020 grantees, so the group that we'd already selected, we rolled them forward to 2021. We basically said "You're still our Honoraria, and we will extend our grants to you to bring your art to the playa in 2021."
STUART: Of course now there's no 2021. So what happens now?
GLORIA: Yeah. So, On we go. Good news is, from grants given to us from generous donors, we're able to cover the entire grant program with those donations for the 2021 artists.
We are giving grants to those artists as planned, in the vein of "art is going to happen no matter what," which is super exciting. Instead of rolling the Honorarium Grants forward another year we're actually giving out the grants, using those donated funds, letting artists make art and do what they will.
Now a lot of them are planning to start building this year in 2021 and take their art somewhere out into the world to a civic setting, to a regional event, something like that. A whole bunch of them still want to bring their art to Black Rock City in 2022.
So that's going to be pretty exciting next year. It's going to be not only the artists who are building this year, based on the grants that we're giving out for 2021, but we're also going to have a completely new Honorarium Grant Program. So 2022 is going to be a banner year on the playa for art.
STUART: Extra art! Bumper crop.
GLORIA: Bumper crop, yep.
ANDIE: What was it like? You had to work with these artists before, who didn't know if they were coming to Black Rock City or not. A lot of them seemed to assume it was going to happen, and then… How is it working with them right now, figuring out what they're going to do?
GLORIA: Yeah, we have a team of project managers that work individually with the artists to help them with their plans. There's a lot of excitement out there. There's some relief. I think most of them are eager to keep building art. They're artists, that's what they do.
It's been hard being locked down. A lot of them have been unable to gather their usual crews, and build art in the way that they're used to building it. Some of them have been able to move forward with projects in the meantime, but I think in combination with the opening up – now that people are getting vaccinated and people can start coming together – combined with getting the grants, there's a lot of enthusiasm out there. So we're talking to each one of these artists about what they want to do and how we can best support them.
STUART: So did anybody just say, "Ah, hell no. I'm sorry. I just can't do this." And even though we're going to give them some money, they politely declined?
GLORIA: Yeah. There were people who had already declined before we received the donation that is allowing us to give these grants. There were people who bowed out for a variety of reasons. You know, COVID took its toll on people right and left. That factored into, I think, a lot of the reasons why some people just felt they couldn't make it happen.
STUART: Yeah. I know a lot of these big projects require really big teams to pull off, and that's gotta be a huge challenge coming out of quarantine. How many people does it take to build a giant piece of sculpture for Burning Man or something like it?
GLORIA: Oh my God. Well, it can be just one artist doing their thing. but some of the temple crews get up to hundreds, maybe 120 plus people on playa just for the assembly on playa. Not counting all of the hundreds of people who come in advance to help build before we even get to the playa.
ANDIE: Yeah, and we don't ever fund the entire project anyway, right? So they also have to have a fundraising team and people to help with their publicity and feed their folks when they're working together and all the other things that it takes to make a crew go.
GLORIA: Absolutely. you hit on a lot of the big ones. It takes a village. It really does. There's a lot that goes into it. We fund typically up to about 50% of the project budget with the grant, so it does leave a lot up to the crew and the community to figure out how to raise the funds and get it out there.
STUART: I imagine there's also people that are having to change their approach a bit. In a normal year I know that we expect artists to execute pretty much as they have said they're going to. Are we giving people a little bit more slack this year, a little more execution leeway?
GLORIA: Yeah. We had been talking to a lot of the artists about what they could accomplish. You know, a lot of things have happened during the pandemic materials costs have gone up exponentially. So many of the original plans are difficult to execute now on the original budget.
When we were still planning toward a 2021 event, we were talking to the artists about what they thought they could manage. There were a lot of things that were impacting them, the cost of materials going up, inability to bring crews together because of COVID.
We'd been already discussing what did they think they could still do with the original grant. And now we're opening it up even further and saying, "Hey, if you can't bring it to Black Rock City, that's fine. We just want there to be art in the world. Whatever, wherever you can bring it, please do, and let us know how we can help make that happen."
STUART: So tell us more about where all of these proposals come from and what the spread is of folks that we have helped facilitate their art. Where are they?
GLORIA: The 2021 grantees are from all over the world. They represent 14 different US states and eight different countries, artists from as far afield as South Africa, Indonesia, and the Philippines.
STUART: So we have confirmed something like 59 artists?
GLORIA: That's right.
STUART: Cool. And they're all getting these Burning Man grants to build art somewhere in the world, anywhere. Just not necessarily, in Black Rock City.
GLORIA: Yes. Although we will see a lot of them in 2022.
STUART: Very cool. Let's talk about a few of the specific pieces.
ANDIE: Yeah. Can we talk about Cosmos by Jen Lewin? I'm excited about that one.
GLORIA: Well, Jen has been bringing art to Black Rock City for a number of years and her pieces just continue to get more beautiful, more magical. This is like an LED-lit platform that people can play on. Dancing and playing on them causes the light patterns to change and glow in a beautiful array of color.
I love her work. This one's super exciting because she's combining a piece that's already been to the playa called The Pool with her new traveling sculpture called Aqueous.
It's going to take components of that combined with a new version of The Pool that's been rebuilt with this dichroic film on top, so that during the day it will reflect the sky above. So it's going to really look cool both day and night.
STUART: Let's find out more about Cosmos from Jen herself. Andie got a chance to speak with her, and it sounded something like this.
JEN: I went to Burning Man for the first time in the nineties.
In the art community I heard a lot of people talking about it. I ended up at grad school at Tisch School of the Arts at NYU. Leo Villareal was one of the professors and he was talking about Burning Man. That piqued my interest and started coming in the late nineties and then immediately was inspired to build sculptures. The first project I brought was in 2005. And I've been bringing artwork since.
Yeah. My attraction to Burning Man was really this sort of root desire to really create participatory, engaged artwork. Burning Man is an amazing place to test work and to see that kind of engagement, but I also wanted to bring it all over the world. I wanted to take it to public exhibitions where everyone was there. And so once I kind of landed on that vision, I just, I couldn't – I don't think I'll ever be able to stop. I'm really passionate about this idea.
I think engaging in creating community around public art is awesome. I learn so much about myself, I learn so much about humanity, and I expect to do that for the rest of my life.
ANDIE: Love it. Love it. So the piece in specific, tell me about the philosophy or your artist's statement for Cosmos.
JEN: Oh, well Cosmos is part of a series of works that actually dates back to a piece I called The Pool, which went to Burning Man for the first time in 2008. These works are ground-based pieces that you play on and run on. They create these sort of playgrounds of light. Cosmos is the largest I've ever made. It's 15,000 square feet. So it's this massive playground of art. And the idea is that people can come in and splash and play with light.
Through that kind of participatory experience they have this really playful moment for themselves, but they also get to have a community experience because the pieces are so big that you can play with lots of people. Especially when we put them in public centers, you see your friends and you hang out with your friends, but you end up actually seeing everyone else too. And so you have this connected community experience.
So Cosmos comes from that series of works. I have another piece called Aqueous that came to Burning Man in 2017, and Cosmos is kind of the third version of it. And it's this very large sculpture that's quite modular. It has some areas that are platforms. It has some areas that are more pods, lily pads that you can jump around on. It also has this daytime element where it's built with a refractive coding, such that during the day, it's really beautiful and sort of shimmers and then at night it becomes this illuminated play space.
ANDIE: So did you originally conceive of Cosmos to be built in Black Rock City?
The original Cosmos was funded by the Japanese railroad, actually, with this desire that it come to Tokyo. But as I was building it, I immediately came up with this idea of moving it then back to Burning Man. And it's quite a large piece to move, so that's easier said than done.
ANDIE: This year, as the process started to unfold that we might be able to go to Black Rock City, the art department reached out to you and asked if you wanted to come?
JEN: Yeah, and I had been holding onto that idea with a lot of hope. I have a small team. There's five of us as students. As soon as we were all very excited to be back in the studio. We're working with our hands and actually building.
We actually have a small portion of it, maybe like a seventh of the sculpture is currently in Domino Park in Brooklyn right now. And that's been really lovely because there's been families and kids out on it every day, and everyone's shooting TikTok videos after 8:00 PM, which has been wild to watch as well. And it's been, you know, with the weather clearing up here, and people having something that they can do outside, that's been safe. That's been really nice to be part of.
ANDIE: OK, so now we know we can't have Black Rock City. What will you guys do with Cosmos?
JEN: I think what I'll do is try to find another public spot that it can go to, possibly even talking to Burning Man, working with them on something like that. I think that just seeing even just the small version we have in Domino Park right now and the feedback from the community, and people are just so thankful that they have something that they can go and do that's bright and colorful and joyful and playful.
ANDIE: It must be so fun to sit and watch people interact with your works because I've watched various videos, and I've experienced these kinds of works where you walk past it and you think nothing of it. And then you're like, "Wait, something just happened when I touched that" or "I saw that guy and he walked into that section and it lit up," and then it starts to bring groups together.
I imagine that's even more fun in public where strangers don't necessarily always interact.
JEN: Yeah, no, it's wild. Yeah, and then the element of social media, the video making has been incredible because we're just now watching everyone make videos and they're choreographing things and creating these really fun and amazing videos. It's almost like art creating more art, which has been also very, very wild to watch.
One of the things that's interesting about the work is that its presentation is quite playful and can seem actually pretty simple, but there really is a huge and massive technology underbelly to all of this that's created in house.
And we spend, even just in this last year, one of the other tasks of Shelter In Place is rewriting all of our software and our hardware and spending an enormous amount of time just developing the technology. We tend not to sort of showcase the highly complicated level of what's behind the work. And we don't show off all the kind of custom software and all of the whizzbang technical things that work does, but it is there. And it it's meaningfully part of the process of what we do and it's really core to my team.
I sometimes forget to talk about how awesome of a team I have and how awesome it is that we're actually really inventing and creating this in house.
The logistics too. Yeah. How do you move a piece around like this? What kind of crates does it go in? And we fly it in planes. That alone is, it's pretty wild.
ANDIE: It's amazing. Yeah. 15,000 square feet is big. That's a lot of boxes. Oh my gosh.
JEN: It's a lot of boxes and it's a lot of systems too because you have to have inventory systems and ways to pack it and ways to repair it and ways to document it.
So there's all these really kind of wild processes that require technology. I wouldn't be able to be the artist I am if it wasn't this time and day for me to be able to access and use all of these amazing technology systems.
ANDIE: Art is going to happen no matter what. And we're excited about that. So thank you for joining me today.
JEN: Yeah, you too.
STUART: Gloria, another one that caught my eye, probably because I'm a giant book nerd, is Unbound by Jules Nelson-Gal.
GLORIA: Yeah, that's a good one for book nerds, for sure. It's essentially a library. It's a building clad in hundreds of bindings – book bindings – with a glowing chandelier of book pages in the center of the roof with a lot of benches and cushions and curiosity cabinets – things for participants to explore.
STUART: Nice. It's not going to burn, is it?
GLORIA: No, that one is not going to burn.
STUART: Good because burning books just still bothers me. I'm not totally against it, but I still just kind of, it kind of gets at me. All right, let's hear more about Unbound.
JULES: Well, the piece has been in progress for a year, we sort of jumped into it last February.
We didn't know yet about the honoraria, but we found a great studio. We decided to rent it because it was a building that was about to be torn down. So it was very cheap. And of course, then we all know what happened and felt like the rug was pulled out from under us. And It was depressing at first, but then it moved on into this.
Wow. Aren't we lucky that we have this place we can bike to and, aside from being stuck at our house, we can go to this place and make art and felt really fortunate. And then a year later, when the exhaustion hits this existential exhaustion as Annie Lamont calls it, it's hard again.
And it's wonderful to do it bit by bit. I'm really enjoying the slowness of it. And that's not what projects are like, you know, for playa, they are intense seven day a week, six month things when you're building a big project. And I was so amped up for that last year. It's very hard finding that kind of.
Intensity and energy right now. I love going in there, but I love to just slowly glue some things and then change my mind. it's not the way you usually work on a project. So it's at a really interesting place. We even wonder, are we going to be able to get this done?
We have a couple of volunteers who've been wonderful, and come in every week, but we were having eight people in a day, three or four days a week! So it's a very different year compared to building temples or working with Michael Garlington on his projects.
ANDIE: Can you tell me a bit about the philosophy behind the piece?
JULES: Most of the people that respond to me about the piece, tell me about how they read a lot when they were little and how much they loved books.
I wasn't that kid when I was little, I was very visual. I wasn't as big a reader. I sort of fell in love with libraries and rare book rooms in college and graduate school. I'd go to the rare book room in New York and at my university. Really it's about the materials, the beauty, the physical visual beauty of these old books that are being thrown out – especially old books that have been scribbled in and written in and highlighted, and have beautiful old linen on them that's faded.
For me going to the library sale here in Palo Alto every month, where there are something like 40,000 books a month going, you know, entire professors' book collections,
They have a sale on Saturday, then on Sunday, it's discounted the Monday non-profits come in and then Monday night, everything's free.
And I go in on Monday night and there's just all this beauty there. So that's really where my interest comes. My father was a physicist, so I love math equations and physics. It's a very visual thing. I love books and other languages. I love things I can't read or understand.
Instead of wanting to understand it, I'm just fascinated by how diverse the world is and how diverse people are in their abilities. This is highlighting human ability, really.
ANDIE: I love that. I love that. I honestly, Larry Harvey used to talk about spaces like that, like the Lyceum and the compendium of human knowledge and, I agree that things in other languages are beautiful.
JULES: I love that my favorite place was going through the stacks at university of Michigan's graduate library and looking at all the Chinese. Books because they had the largest Chinese collection outside of China. I was blown away that I was allowed to touch these books and look through them.
No, I couldn't read anything, but they were just amazing objects.
ANDIE: Beautiful. How did you find your way to Burning Man?
JULES: I first heard about Burning Man in the nineties, and I remember thinking, "Oh God, it's so sad that I have three children and I can't do this stuff." I just felt like, okay, That wasn't an option for me. I was too old. And then years later, when I had an art studio with, a group of people, it was a large space in an old high school. One of the people there had been going to Burning Man for a while. She started saying, of course, you're not too old. I just started asking her questions and doing my research.
Burning Man was just this wonderful opportunity for me to make art.
I got involved in several art projects and the day I remember hearing about the build, the temple build with David Best, and I really wanted to do that. And I was just too afraid to, I hadn't been yet. I wasn't even sure I was allowed to build the temple if I'd never been to Burning Man. And so I just let that pass by.
And when I got to the burn, that was my greatest regret. When I saw that temple of Juneau, I was like, Oh my God, this is beyond what I ever expected. Then the next time he built in 2014, I built with him. And from there it just became a big part of our life building and traveling with David to Ireland and Parkland, Florida, and doing all these projects.
ANDIE: David Best is on film and at least two or three places saying the minute you leave your house for Burning Man, you're already at Burning Man, but it sounds like you are kind of already having a Burning Man experience before you even left.
JULES: Remember the day I drove up to Petaluma for the 2014 temple was the first day of gathering.
And I was like, "Ah, I can't do this." I was just too scared. And the minute I got in the car, I was like, so excited. Like all it took was getting in the car, getting on the freeway. And I was like, yes. It was just crazy from that day on. But yeah, no, I think Burning Man is, it's more of a year round thing, I try to keep it to more like six months, but it's become a little bit more of a year round thing.
ANDIE: Speaking of, we don't get to have Black Rock City again this year. The world is unfolding around our ears. What's going to happen to your artwork? Are you going to keep working on it slowly, or are you gonna put it somewhere?
JULES: Um. We can finish it and complete it. And then we would essentially shrink wrap it and we've had offers of places to put it. I don't think we'd install it outside, cause I don't want it to get too much sun before the burn, but, we're absolutely going to do it for 22.
That is an absolute, We will do it because we can.
Sometimes I think I want the burn to happen so badly because I want Burning Man to survive and I miss it so much. And yet it seems like too much in this year of weirdness and slowness.
It feels funny right now because I feel hopeful.
And so you feel like we should be happy and ready to just go in there seven days a week. And I don't have that in me. This is a thing, this is a real thing. And it's like the end-of-the-pandemic complete existential exhaustion. It feels like lots of people going through this.
I've never made so much art. It's been in that regard the most amazing year. I finally realized that the studio is a little overwhelming. Everywhere I go, I have a different project going on. Like, this is the trim on the interior.
This is the exterior. This is the pediment. This is the entablature. And I get in there and I get overwhelmed and I can't sometimes just sit and do my own work. So I moved into my dining room and I've just pulled a 10 foot table in there. And now every day I sit in my dining room with headphones on like, this is my office people. Do not walk in here and start talking to me.
I feel very fortunate in this time, but it's still hard, you know, it's hard for everybody.
ANDIE: Yeah, you can have two feelings at the same time. It can be easier on you than others and still be hard for you. It's easy to get into comparing and feeling like, what do I have to complain about? But we're all living through something really big.
JULES: Right.
ANDIE: Yup. Yup.
JULES: And there's something very cool about that too, to think about the whole world is going through this in different ways. We're not in the same boat. Some of us are on yachts and some of us are sinking, but we are all sort of in the same storm. And that is a fascinating experience.
ANDIE: Even with our neighbors, much less around the world, which is, Burning Man comes from all over the world. So yeah.
JULES: Right. Which is what I'd really miss this year. even though I love the big burn. It'd be sad if it wasn't international because that's like my greatest joy is all these people I meet, all these little run-ins that you have that teach you so much about the world. Be sad not to have that.
ANDIE: It would be. And a bunch of the art. There's a lot of international Honorarium pieces that we hope that we don't know what we hope to wait and even could happen. But, I can't wait to experience your work when it is ready. It's an amazing concept and it's very beautiful.
Art is still being made, art going to happen.
We all need to move through that emotional moment.
JULES: I think probably more art has been made during the pandemic than ever before.
ANDIE: Let's make art. No matter what.
JULES: I'm amazed at how creative people are in their homes. I mean, the videos people are putting out are just mind-blowing and the athletes who are working out in a room, creating like skateboard parks in one bedroom and dancers dancing down the street. It's been phenomenal to see the resiliency, but it's also been tough.
ANDIE: Yeah, true. Musicians collaborating remotely. And the visual… There are friends who are doing storefront performances, like inside the glass. And it has been a very creative time. It tends to be the case with times like this, I suppose.
JULES: I think things will be changed for a long time. Why not let everyone watch? it's such a fabulous concept. More sharing.
ANDIE: Thank you so, so much for joining us. I really appreciate your time today.
JULES: Thank you so much.
STUART: Gloria. Another project I know that everyone's pretty excited about is called The Solar Shrine. Can you tell us a little bit about that?
GLORIA: Yeah, that's an amazing piece.
The Solar Shrine, that's Antwan Lee from Chicago. His concept is an Afrofuturist artwork that was inspired by the magical realism of ancient Egypt. And it's going to have flame effects and the plan is for it to be one of the big burns.
It's a really cool looking piece.
STUART: All right. Andy got a chance to speak with Antwan. Let's listen to some of that.
ANDIE: How did you find Burning Man? Or how did it find you?
ANTWANE: Well a fraternity brother of mine went to Burning Man every year for about 10 years.
I was like, man, I want to go to Burning Man. He advised me to go to some regional events And told me that that would help me to understand the big event and the culture. That was several years ago. And that was my introduction to the community.
ANDIE: And you were already an architect when that happened. Did you already consider yourself an artist too?
ANTWANE: yeah, sort of. Art is something I've been really into for a long time, and to me being an artist and an architect are pretty much the same thing. architecture is like the highest form of art and I've done many things in the arts community, from curating art events to sit in on committees and boards. One of my favorite areas is African spirituality or what I would call it African Deep Thought. And this along with Afrofuturism and science fiction and mythology.
I've helped to start nonprofit organizations which I'm very proud of. One is the conservatives of African art and the others that Europe arts foundation. Both of these were focused on traditional, like African art from the continent. And then, recently, like right now, and actually I'm feeling really good because I just got my zoning approval today.
I'm designing a museum and cultural center for the Ethiopian community association in Chicago. And there I sit on the arts committee. and they primarily focus on refugee resettlement. So
ANDIE: Fantastic. So those are your themes that you really like to work in. You hadn't been to Black Rock City before you got invited to have a grant, though, right?
ANTWANE: Nope. this will be my first time going to Black Rock City.
ANDIE: Will you describe the shrine itself a little bit more for us and the desert?
ANTWANE: Yeah, The Solar Shrine is an Afrofuturistic art installation and it's based on ancient Egyptian and Nubian cosmology and symbolism. These cultures believe that the sun RA was to giver life on earth and created the universe. So the project is pretty, it looks like an Egyptian shrine at temple, there's a gateway, the shrine structure itself, the solar bark, and then a smaller monument. The gateway' s about 35 feet high. It has a gold disk at the top. The whole installation is oriented, to align with the rising sun in the east. In the morning.
So it's like a homage to the sun. From in front, the gateway looks like two up lists. Betraying the axis, symbolizing, masculine, feminine energy . And then the shrine itself is pretty large.
And that design is similar to what's called an ancient Egyptian architecture. It's like a mastaba, which is where the Egyptian people buried their dead. Really a lot of symbolic architecture geometry and things like that.
ANDIE: So you planned for BlackRock city, 2021. And you assessed the placement of the shrine to align with the rising sun specific constellations at night. Black Rock City is in a slightly different location every year, s h ow will that affect the placement of your piece in the Black Rock Desert?
ANTWANE: Well, when we come back out to Black Rock City, I had already worked with the GIS expert to survey the terrain. So I knew like the distance that Black Rock City was from the surrounding mountain terrain. It still really wouldn't affect the positions of the sun or positions of the stars at night in all of these alignments .
ANDIE: So what kind of site have you found to be able to do it instead?
ANTWANE: Right now we're working on The Solar Bark. The Solar Bark is the physical manifestation of RA. That piece is about eight feet high, 12 feet long . Because Burning Man got canceled this year.
We want to have virtual events similar to what we did last year, but even take it up another level. We want to like actually take the Southern park out and have it be a part of different events, like jazz events, different Afro futuristic events, events with other artists and just raise community involvement and awareness of the project.
ANDIE: So you can keep working on that in the meantime, as you continue to build.
ANTWANE: Absolutely. We're going to build a solid bargain regardless, going to work on other elements of the project as well.
ANDIE: Fantastic. As you're working with the groups there, do you talk to people about it being associated with Burning Man?
ANTWANE: Oh, absolutely. I have, and we will constantly talk about how the project is connected to Burning Man.
The Genesis of The Solar Shrine, I actually came out of [00:36:00] Chicago. But I think, having it to go to a place like Burning
Man is really great because many people have heard of Burning Man, but some people have not. So, it works on both levels to talk to people who are familiar with the Burning Man community, but also to educate people who are not.
So not having Black Rock City last year and having Burning Man be virtual was, you know, sort of a good thing, in that we were able to reach out to the community, have a lot of events and actually bring Burning Man to Chicago. I mean, there was a large Burner community in Chicago, but more to inner city communities and neighborhoods.
One of the things that we're working on right now is a workforce plan where we actually invite people who live in the inner city communities like the neighborhood I grew up in, west side of Chicago, and they will be actively working on the project.
ANDIE: Like on the technology, or the building?
ANTWANE: on the building side, on all sides, any side that they really want assistance.
ANDIE: That's awesome. I know that you are an activist, a grassroots thinker. What are your philosophies around The Solar Shrine and the architecture of it?
ANTWANE: That's a really good question. You know, I consider myself more like a deep anchor. someone who studied ancient history and archeology, more specifically as it pertains to people of African descent.
And so I see The Solar Shrine as a vehicle for you and transformation. I see it as a prototype that can not only be at Burning Man, but could be anywhere.
ANDIE: That's cool
ANTWANE: Chicago has a long history of grassroots initiatives. With community organizing and music, and art as well., as I mentioned earlier, you know, I see the solar trine is a prototype of Afrofuturistic architecture, connected with the spirituality of our ancestors.
Chicago has a long history of great writers and poets, musicians, and artists who are people of color, artists like Sun RA, who was the first Afrofuturist. Or writers like Richard and Mahalia Jackson, the gospel music singer, you know, gospel music started in
Chicago on the south side at a church called Pilgrim Baptist church.
And I actually worked on the restoration there approximately as an architect, not to mention, more recently like house music, which came out of nightclubs in the 1970s.
One of our initiatives is to bring the local Chicago culture and community to Burning Man. And we have many collaborators are ready to go in 2022.
ANDIE: So will they come with your team and work on it with you? Absolutely.
ANTWANE: we regularly go to support them at their events. we had cold fundraising event back in March, for women's month with, two of the most prolific female DJs in Chicago.
So we do a lot of like community, community events, co-organized events, things like that. and we're going to be much more in the summer because Burning Man won't be happening in Black Rock City. It'll be virtual. So to give us opportunity to get new. But it's in stream them straight to the virtual platform.
ANDIE: Awesome. Tell me about the team that you're working with to build this piece in Chicago. Who's that?
ANTWANE: Well, we have a bunch of people on my team who have gone to Burning Man, each year, but like, Over the last decade plus, and some of my team members they volunteer for DPW and with FAST at Burning Man. Some of my team members also did core projects at Burning Man as well.
So we have lots of experience understand the Burning Man culture and the environment. You know, Chicago, we have a bunch of doors, so what I was able to do is bring the technical skills as an architect and the desire to build, and then they have the applied experience. So we're fusing that.
ANDIE: How many people you think it's going to take to build it?
ANTWANE: Wow. I would say we'll have, probably anywhere from 20 to 30 people. Yeah.
ANDIE: Well, I sure look forward to seeing it whenever that gets to be,
ANTWANE: Hopefully this next year, we don't jinx it that's another year!
ANDIE: No, I mean, maybe, who knows? I'm a Missouri girl, maybe I'll end up in Chicago and see pieces of it as you do whatever you're going to do this year. Don't count me out.
ANTWANE: No doubt, no doubt.
ANTWANE: Hold on one minute. What do you okay. She said it's good to go. Fern is like, she's on it. So, if she says it's good to go, I better shut up. She's on it.
ANDIE: That's good. Okay. . .
STUART: I love all of these yet. I wish we had a 17 hour show that we could talk to every single one of these wonderful artists we don't, but I'm not going to call it until we get some time to talk to our friend, Leeroy New in Manila. Gloria, what's the story with Leeroy?
GLORIA: He is a renowned artist in the Philippines. And we're really, really excited that he applied to bring art to Black Rock City. He's known for costuming and performances. He makes masks out of recycled materials. This year, his piece is called Mebuyan. It's a spiritual installation and architectural installation. It's representative of like a multiverse. It'll be interesting to see how he creates this piece.
STUART: All right. Let's hear from Leeroy and let's make it one of those around the world calls where it's way too early on one end of the line and, uh, way too late on the other, because well, because time zones.
LEEROY: Nice. Sounds great.
STUART: Yeah. Well, hi Leeroy. I'm Stuart.
LEEROY: Hi Stuart. How are you doing today?
STUART: Tomorrow…
LEEROY: It's a late evening on a Sunday. I work over the weekends being an independent freelancer. So yeah, the weekdays and weekends are blurred into each other for me.
STUART: Same story here. What's it like being an artist in the Philippines today? What's the scene like?
LEEROY: Oh, wow. Yeah, it's very interesting compared to everything else now that I am able to get a global gauge. I get a lot of information from different practices all over the world.
But generally, we tend to be a bit more conservative, the Philippines in general, it's a young country. We've only been you know, independent a little over a century. So, we're catching up to the practices that are being embraced by the rest of the world. There is not much for government support.
So a lot of the artists tend to create their own systems for production. we ended up doing a lot of these hybrid ways of working that are not necessarily legit the mid channels, the state has not found a way to properly absorb, in a systematic way.
How creatives are practicing in the Philippines. Mostly because of economic reasons, they would say they would insist that there are more pressing issues. like the economic stability is and . The urban poor is still substantial compared to the rest of the different economic classes.
And yeah, there's a whole lot of other pressing issues, supposedly that overshadows art support.
STUART: So not a lot of government support. Actually what you're describing sounds a lot like Burning Man art in general, we've been outsiders for so long, we've kind of created our own ecosystem, which you're now joining.
LEEROY: I know.
STUART: Yeah. Tell me about what that project is going to be like. It doesn't sound conservative at all, by the way, it sounds pretty radical.
LEEROY: Well, yeah, I guess that's why I end up being part of such platforms as Burning Man. I've decided that I crave my own demand and create my own systems for working and bullion is the result of my venturing into public art initially as a way for me to survive as an art student by making myself visible.
I've decided that the local arts scene was dominated still by the more conventional art making practices like painting, for example.
So the language hasn't caught up yet when I was an art student for, the more I guess what they would call avant garde art. But to me it just made sense to cultivate a means of art production where I get to directly relate to my audience in the public space, especially for a culture that does not necessarily go to museums and art galleries to enlighten themselves. That's kind of like an alien practice still that we're inheriting from our colonizers.
STUART: Right.
LEEROY: So Mebuyan is an extension is the most recent manifestation of my venturing to public art and interactive structures and spaces.
STUART: Yeah. This is a large-scale interactive sculpture . Why don't you describe to people, what it's like to walk through it?
LEEROY: Well, Mebuyan can be described as a cluster of spheres, which is supported by poles above the ground. And one can actually travel through these varying-sized fears and experience different sounds and colors and textures as they pass through these different spheres.
It kind of looks like a bubble structure floating above the ground and Mebuyan, the title for the piece, I'm referring to this goddess in South Eastern Philippine mythology, but global mythology is this goddess of the underworld who is described as having breasts all over her body.
She looks like this because she nourishes the spirits of dead children and the underworld, because we believe that, even the soldiers in the afterlife have to, undergo. A journey still, and that, these spirits of bed children still need to be nourished to, to fulfill that journey they have to do in the afterlife.
STUART: Wow. So a beautiful monster. Yeah, I understand that. you have an interest in monsters, is that some of your influences maybe come out of comic art?
LEEROY: Yes. Yeah. A lot comic books. Maybe it has to do with my interesting relationship with the Philippines. We're very conservative, catholicism is something that we inherited from our first main colonizers, the Spanish.
We're always thought as kids to have this delineation between the divine and monsters and demons. And so my particular attraction to demons, it's kind of like a personal one. I'm also like a queer artist, so that's something that I had to grapple with as a kid growing up in a highly conservative Catholic upbringing.
STUART: Sure.
LEEROY: My first trip to Burning Man was back in 2019. That had to do with them agreeing to get me to do big work because, when I went to Burning Man, I understood you have to be there to understand what it's like to work there, right?
STUART: Yup. Yeah. We don't like artists to just look at it on the postcard version and then show up. You get some strange surprises. You had a Global Arts Grant before that though, right?
LEEROY: Yes. So at that time, I think that was back in 2014, when we heard about the Burning Man Global Arts Project. Me and my friend, Julia, and we do these urban activations through installation and interactive structures.
And Burning Man was something that we've always encountered. And we aspired for in terms of the scale and the effect that it has to transform sites. You know, the idea of going to Burning Man was such a, th this thing in my mind, I just kind of absurd to be able to actually do something for Burning Man.
So we sort of like settled, Hey, we can write to this Burning Man Global Arts Project. And, we were just extremely happy that, we were selected as one of the grantees
That proposal actually came to fruition. It manifested in the form of a floating Island that traversed one of the main rivers, one of the main water way features Metro Manila, the plastic river.
Yes. that was fun. I did not realize that years after that this would happen.
STUART: So that was your introduction to the Burning Man art world. . Tell me about, that experience out on the playa, out in the desert. What was it that drew you to say? Yes, I think I do want to do an installation out here because it's not a very friendly place.
LEEROY: I know. Yeah, it's not, but I, I do have some supportive friends who've convinced me to actually propose. And then we decided that we would propose together. Cause, it's a very daunting, intimidating task. and, I've done a lot of large scale projects myself, but it's a whole different animal up there.
But you know, I don't back out on the challenge, my first time when the first night that I was there, I was like such a surreal moment for me. Because up until that time, people were sending me images of it, telling me, Hey, you're I can see your work here, stuff like that. But it, it was never really a thing that I decided that I would make work there. Cause like I never sets goals like that.
I would just do work and do it well, and then see where it goes. And then, this thing happens. The pandemic, it will inform how some spirits will look for the, maybe we end the vessel actually. So, there's a little bit of evolution for the work, because of the pandemic, how the bubbles now can be seen as isolation, pods that keep people from each other like a visual manifestation of this social distancing that we've been implementing all over.
STUART: Right. We're not able to build Black Rock City in Nevada this year. but the the art grants were funded anyway. What's your backup plan? Where do you think you might build midway on?
LEEROY: We have a lot of space here. I think I have friends who are more than willing to have Mebuyan set up probably, near a beach or like in the middle of a farmlands.
So I think what's important is the work gets made, the work is designed to be traveled and toured. I think it's quite flexible in terms of the uncertainty of what may come.
STUART: Well, I'm thrilled that you are going ahead with the project no matter what. It sounds like it's really going to be fun.
LEEROY: I'm going to have fun making it.
STUART: If it's not fun, why do it right?
LEEROY: Yeah, exactly.
STUART: Well, thank you so much for for dropping out of the show today. I really appreciate it, Leeroy.
LEEROY: Yeah. Thank you so much.
STUART: Gloria you know, some of these I'm sure were designed to be site-specific and they're going to be done on other sites. How's that working out?
GLORIA: I think a lot of these pieces are going to work really well in context outside of Black Rock City.
Burning Man art is all over the world already. You know, there were so many pieces that have been to Black Rock City have found their way into civic settings and, general events and all kinds of other places. I know that there are some civic settings where it's more problematic to have things that people can climb all over or fall off of that kind of thing.
So some structures might work better than others, but, there's certainly an advantage to Black Rock City
the things that people are able to do and how they're able to interact with the art. because, those help people to really experience the art in the ways that the artist intended.
ANDIE: What was it like for you guys to be able to call and say, Hey, here's a beacon of hope, no matter what, what did that feel like?
GLORIA: Oh my God. How exciting is that right? To be able to say, yeah, we just had a disappointing announcement, but guess what? Keep on keeping on and let there be art.
ANDIE: There's never been more evidence that Burning Man isn't just a single place and that it can really be an experience that can happen in a lot of different contexts. It can be anywhere anytime.
STUART: Yeah, it's going to be in at least 59 places in various states and countries around the world.
And every one of those, when it gets to burning, man art installation is going to be burning, man. Right? ? Absolutely. Well, thank you so much for joining us, Gloria Beck. Thanks for all your, on the street reporting, Andy grace. I believe that that concludes another episode of Burning Man Live. Thanks everybody for showing up rev credits. No problem.
A big thanks to Jen, to Antwan, to Jules, to Leeroy, and good luck my friends with your installations, wherever on this big blue marble they land. And please keep making art. The world needs it now more than ever. Thank you for all that you do.
Burning Man Live is a production of the Philosophical Center of Burning Man Project made possible by listeners like you who throw a few bucks over the transom at donate.burningman.org. Thank you very much. Our producers are Andie Grace, Michael Vav, and yours truly Stuart Mangrum.
Thanks Larry.
---
more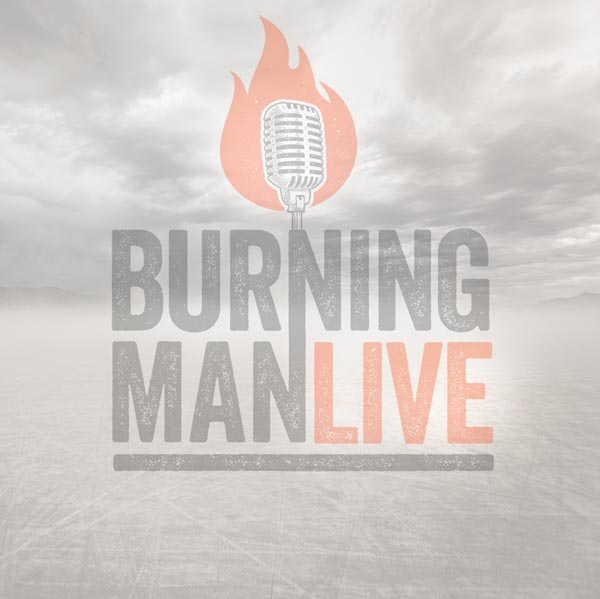 Jen Lewin
Julia Nelson-Gal
Antwane Lee
Leeroy New
Gloria Beck, Manager, Art Support Services